Secure integrated solutions with Surface and MBS
Government organizations are looking for strong, comprehensive, and simplified security that helps them protect confidential information. In this webinar, learn about the principles of Zero Trust and chip-to-cloud security, Microsoft Intune, device management, TAA compliant Surface devices, and MBS integrated CAC solution.
Securing Surface Pro 9 has never been easier
The innovative and compact case attaches seemlessly to Surface Pro 9 and connects via USB-C. The rugged case is equipped with an integrated smart card reader that supports a robust two-factor chip, plus pin authentication and Federal Information Processing Standard (FIPS) encryption.
With access to Microsoft 365 and other apps, the case is ideal for use at the Department of Defense, a government agency, or any organization where strong security and compliance are key to preventing data loss.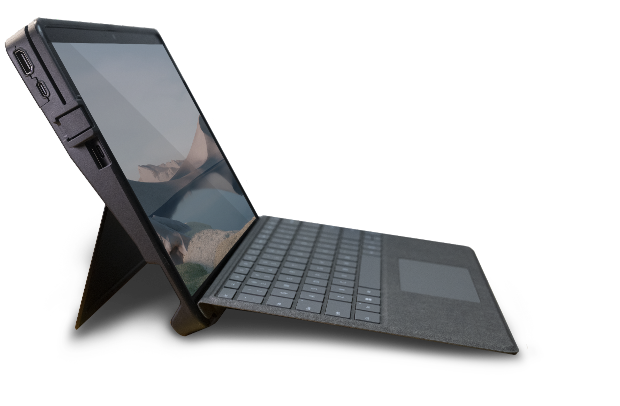 Reduce exposure to highly sensitive data and Surface Pro 9 by combining with security software
Protect Surface Pro 9 against contaminants and accidental drops from most physical environments
Easily customize deployments so that each device is limited to and optimized for key secure operation applications
Boost government employee productivity with the low-profile design, durability, and full access to Surface Pro 9
Features

Realize current and future security needs with standard ISO7816 Class A, B, and C (5V, 3V, and 18V) cards.

Realize current and future security needs with standard ISO7816 Class A, B, and C (5V, 3V, and 18V) cards.
Meet the standard of PIV system and security objectives, ideal for government data security use.

Prevent physical tampering of the internal memory components for added security of the device.

Optional HDMI Connect to a second monitor for a full desktop experience and enhanced productivity.
Contact MBS to get started today!
With MBS, you can build the perfect system to suit your needs, from configuration, installation, and training.
Learn more